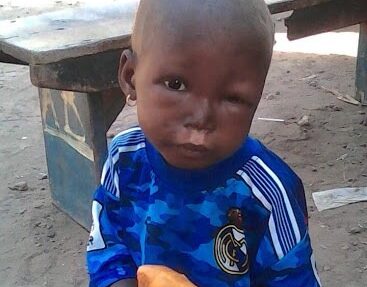 Doris was unique. Her story is fragmented and ended much too soon. This beautiful soul marks the beginning of Cry4Humanity. Doris was abandoned in the streets and co-founder Alhaji Jalloh was her rescuer. Doris had been brought from her village to Makeni by her mother to visit a relative. Her mother hoped her relative could assist in getting medical care for Doris. When the relative could not be of help, Doris's mother rejected her and traveled back to her village. Jalloh discovered Doris collecting donations from his students and took her to the hospital where she spent 3 weeks. Doris was treated for a severe case of malnutrition.
Once discharged from the hospital, Doris was cared for by multiple people within Jalloh's community. There was a woman interested in adopting Doris, however, the mother claimed she was unable to travel back to town to sign the necessary paperwork. Funds were running low and the only option besides abandoning Doris once more was to return her to the family village.
Several months after Doris was returned to her family, Jalloh went for a visit and delivered items to her and her family. She appeared to be doing well! Jalloh promised the family he would return again when given the opportunity. Unfortunately, the chance to return would never be a reality. A neighbor in the village contacted Jalloh to report that sweet Doris had passed away. Jalloh had not been given any specific information in regards to the cause of her death.
With the passing of sweet Doris, the creation of Cry4humanity unfolded!